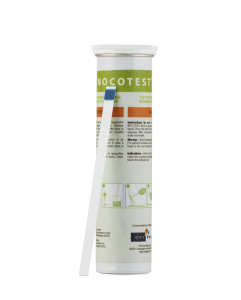 Nocotest contains test strips for semi-quantitative detection of hydrogen peroxide (H2O2) These test trips are used to check that the Nocotech bio-disinfection products are distributed evenly.
The Nocotest test trips contain an organic redox indicator that reacts with hydrogen peroxide to form a blue oxidation compound. Thanks to the magic of chemistry, we can now check whether the treatment has spread evenly over the treated area.
Nocotest, a product that has passed quality controls in accordance with applicable standards and regulations.